The condition of hair is the essence of everything Kasia Salon does! Going into the new year, unless the hair is in good condition, the rest of our hairdressing is not fully realized.   Just like our Kasia skin care routine, we believe treatments are a regimen-based method, recognizing that healthy hair relies on consistency and a healthy scalp.
Most don't realize that even the 'organic' and 'natural' brands carry chemicals and/or use heavy ingredients that weigh hair down and cause scalp to become dry, irritated; producing unhealthy locks.
Your scalp should be treated no different than your skin, absorbing 60% of everything into the blood stream, making it react and even cause hair loss.
Q. My hair is very dry, brittle and damaged. How can I repair it and make it look and feel better and healthier?

A. Detox your hair! If our skin and hair are such a huge part of our WHOLE-istic system, then why not detox your hair. Give your hair a break from harse chemicals and provide it with nutrients, ph balance, healthy organic and natural moisturizing and cleansing treatments.

Kasia Salon clients LOVE Hamadi and what it's done for them..... so give it a try  on your hair for 6 weeks.  Your hair will thank you - look - feel much, much better.  Damaged hair will be restored. You'll never go back to shampoos with detergent and chemicals again.

Ready to fall in love?

Hamadi Ginger Soymilk Hair Wash – "Organic" hair wash that gently cleanses your hair. For all hair types. Essential oils of ginger, sweet orange and rosewood. Gentle enough to use every day. Soymilk seals in moisture and proteins. Tested on actresses, never on animals.

Hamadi Shea Rice Milk Conditioner –"Organic" detangling conditioner for all hair types.  Greatly improves condition of dry, brittle, damaged hair. Essential oils, clary sage and ylang ylang. Shea butter smoothes and moisturizes. Rice Milk proteins nourish and fortify. Tested on actresses, never on animals.

Hamadi Shea Leave-In Conditioner –"Organic" versatile, conditioning and styling cream. Moisturizes and adds shine without being too heavy. Great for straight or wavy hair.  Tested on actresses, never on animals.

Hamadi Shea Hair Mask –"Organic" deep moisturizing treatment. A perfect weekly indulgence to repair dry, brittle and damaged hair, to maintain healthy hair and for color maintenance.  Hydrates from

roots to ends.  Tested on actresses, never on animals.
Take the 2 week

HAIR DETOX

test

!

For the month of January purchase any

Shampoo/ Conditioner  +  Hamadi 4oz. Hair Mask or Shea Spray

and recieve a FREE Travel Size shampoo/conditioner of your choice!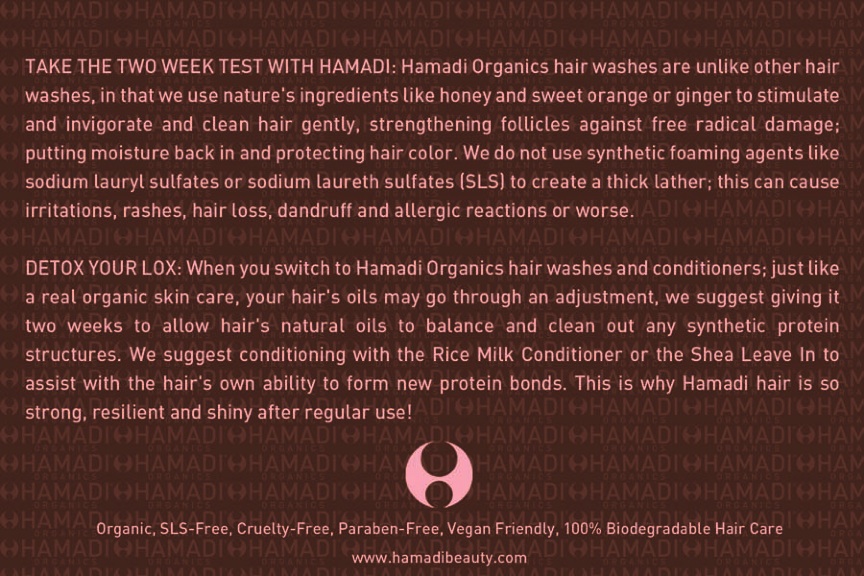 Last but not Least......InStyle just released their top hairstyles for 2009. Here were our favorite from their top 10 list.
---
| | | |
| --- | --- | --- |
| Katie Holmes's Bob | Jennifer Garner Voluminous Waves | Jennifer Aniston's Casual Straight |
| | | |
| Makeover mother-maven took the top spot for the second year in a row. The stylish star has sported several different bobs, but this winning look combines two of our most popular categories—bangs and browns. | Spray damp hair with a Hamadi Shea Spray and then blow-dry with a round brush. "Dry in 2-inch sections—you need a nice amount of hair to heat it up and keep the temperature." Quickly roll up each section in a Velcro roller (1½-inch roller is best) before it cools. After 30 minutes release rollers and lightly brush out hair with your hands to soften the look. | Jen became a hair icon years ago with "the Rachel" and now with a lightly-layered straight style, she's still on top. |